Aquabeads are colourful beads for children aged 4 years and over that stick together after being sprayed with water – without the need for heat or ironing. The beads are simply placed on the layout tray according to the template sheets and instantly sprayed with water, thus creating a beautiful bead design.
Aquabeads craft products were first introduced to the Japanese market by EPOCH in 2004. Aquabeads then conquered the German, Austrian, Polish and Scandinavian markets in 2014 thanks to EPOCH Traumwiesen. At the start of 2021, EPOCH Traumwiesen launched Aquabeads in Switzerland, too. Aquabeads are now extremely popular with young and old craft fans alike in over 45 countries.
The beads strike a chord with parents due to their high quality and non-hazardous nature. Aquabeads have been tested by independent laboratories, comply fully with toy safety standards in Germany, the EU and various other countries around the world – including the US standard "United States Art Material Standard ASTM D4326", which is one of the most stringent toy safety standards in the world. The main ingredient of the beads is PVOH, which is approved as a pharmaceutical additive and is also used to coat tablets.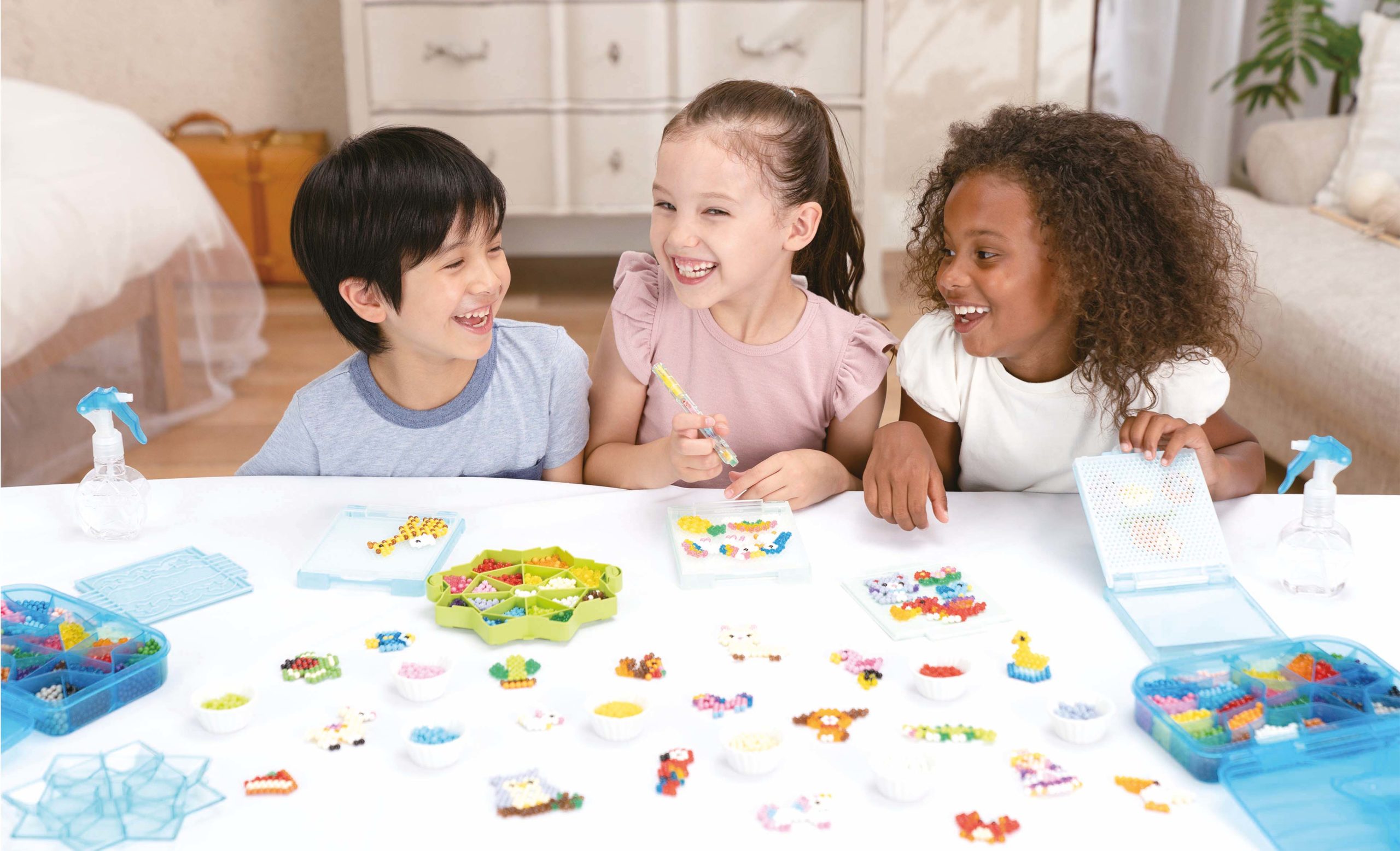 Which products are available?
The Aquabeads product range includes complete sets, theme refill sets, refill packs and amazing accessories. The complete sets come with everything you need to create colourful bead designs: Beads, templates and suitable accessories. The theme refill sets contain additional templates and beads for fans who already have Aquabeads accessories. The refill packs ensure you never run out of beads. The accessories include layout trays, such as the flip tray, the bead pen and the sprayer.
The varying bead shapes guarantee your Aquabeads designs look even more artistic and creative. In addition to the standard beads, there are jewel beads, polygon beads and star beads. The new star beads are even easier to grip and offer a completely new crafting experience. Fur looks much fluffier or a dragon has real little spikes.
With the innovative new flip tray, designs can be removed from the layout tray faster making crafting much easier. A drying tray is attached to the layout tray. Then both trays are flipped over together, thus ensuring the finished bead design lands on the drying tray. The main advantage: You can immediately remove the design from the layout tray and continue crafting straight away. There are no limits to a child's imagination when creating designs.
Why is playing with Aquabeads so special?
Crafting with Aquabeads is not only great fun, it also offers added educational value. Children's skills are developed across many areas when using the colourful beads.
This includes:
Training fine motor skills and sensorimotor functions
Promoting hand-eye coordination
Stimulating fantasy and creativity
Promoting concentration, perseverance and patience
Developing a feeling for colours and shapes